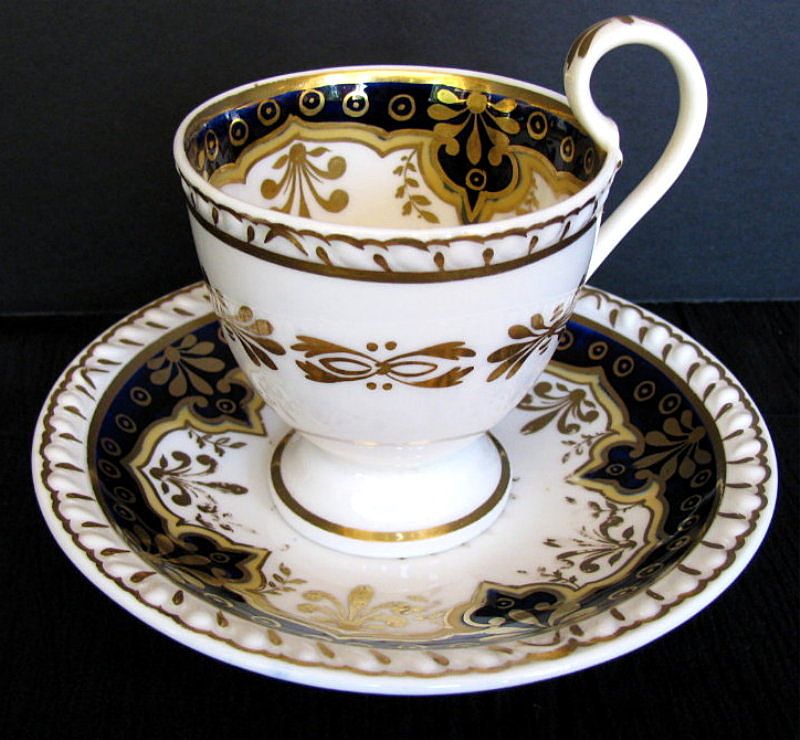 An antique tea cup collection is a satisfying hobby for most collecting enthusiasts. Even teens can join in, rummaging through antique shops, garage sales or gifted tea cups and saucers. Starting with cups handed down from their grandmother's mother, there is a certain pride and thrill to finding great antique cups and saucers. It gives a lot of joy. Let's face it the tea culture is not going away in a hurry and collecting antique coffee cups and tea cups is an easy way to learn about how to collect precious things.
Where to Begin
Before starting your own antique tea cups and saucers collection spend time learning about them. You can find antique tea cups in antique shops from as early as the 17th century. They were first made of silver and are designed for the elite and not to drink tea but to drink hot chocolate. It was later when the tea culture took off that manufacturers made tea cups from porcelain.
The first tea cup manufactured in Europe had no handles. It's not broken or a reject – that was the tea culture fashion of the time. Learning about tea and coffee cup manufacturers and their manufacturing marks will help you recognize when you come across them. Mmanufacturers of the top selling tea and coffee cups include Spode, Royal Doulton, Havilland, and Limoges. Older tea cups from Japan also make good collectibles – but the focus here is mostly on European antique cups and saucers.
Can You Tell a Coffee Cup from a Tea Cup?
A coffee cup is much bigger than a tea cup. Tea cups have a fine and delicate look and design with handles set higher than a coffee cup.
Where Can You Find Your Antique Collection?
Begin by looking in your own kitchen or attic for antique pieces. Our tea culture is very strong so every family has something handed down even if they're not family heirlooms. Your grandmother may have a set tidied away in kitchen cabinets, storage or your attic.
More Antique Tea Cup Resources
The next most common place to look are local flea markets and garage sales. Start with your own neighborhood before looking for garage sales in other suburbs. These places are also the cheapest way to find antique tea cups. But garage sales and flea markets can be seasonal. Antique shops also sell a variety of antique pieces. The prices are generally higher but antique shops also have experts who can tell you about the manufacturer and history on the piece your interested in.
Garage sales and antique shops have also moved online so don't forget to look at online stores to research and buy antique tea cups. Be thorough when researching because returns are very difficult.
Antique cup collecting can be an expensive hobby, so take your time and expect to invest to get your collection growing. Decide first how much you are willing spend for a single coffee cup or tea cup to limit your spending. This is part of the challenge – to find great antiques for a fraction of what they are really worth.
Other Things to Consider
Where do you store them? Will you put them in your kitchen to use them? How about a cabinet for display? The more you collect the more space you need. Either way they should be in a safe place where they will not break.
Learn about the best way to clean your antique tea cups to prevent stains and blemishes  that form over time.
Collecting antique cups is a great hobby where you preserve our tea culture and heritage. Your collection can grow over the years, hand them to your children and grand children or sell them if they become more valuable or you have too many!
Antique collectors and enthusiasts might have already heard of Ironstone plates or might even have them in their own collections. Ironstone was patented by Charles James Mason of Staffordshire, England, in 1813. These plates can be traced back to the early 1800′s when white glazed varieties were produced and exported to countries like Australia, Europe and the United States. There are also colorful varieties of these plates which were sold throughout England.
British potters started to produce snowy-white ironstone pieces in 1830′s. These were mainly sold to American families in rural areas and were called White Ironstone.
White Ironstone dinnerware was more durable than porcelain and harder than earthenware. Being superior in durability, strength and design, they quickly gained popularity during the 1800′s. It was also more affordable.
Early White Ironstone was less expensive than more delicate porcelain and sought after by rural American families. As time passed they became more and more valuable. Today, White Ironstone is an exclusive item for antique plate collectors. Pieces can cost between $200 and $350 depending on the rarity, pattern, maker and quality. A chip-free White Ironstone piece is considered rare and often more expensive.
More Antique Ironstone Resources
Like any antique piece, White Ironstone needs special care. Dust regularly and handwash with a mild detergent if necessary. If you use your white ironstone dinnerware at meals, be careful when using knives. Knives can cause unnecessary marks to your plates which will reduce their value and create unnecessary wear and tear. If possible, avoid knives when using your white ironstone dinnerware.
Did you know that antique collectors can tell when an ironstone piece was produced by the design? The earliest pieces of White Ironstone, produced from 1830′s to 1840′s, have paneled hexagonal or octagonal shape designs. Those produced during 1860′s were rounded with defined ornamental designs. After the 1880′s, Ironstone pieces were being produced with simple patterns and shapes– mostly round and plain.
When collecting ironstone, it is important to gather as much information as possible. This will help you with every aspect of white ironstone plate collecting from buying to taking care of your antique ironstone.
Antique collectors and enthusiasts who buy Wedgewood dinnerware and pottery, often collect Jasperware. Jasperware was developed through a series of experiments by Josiah Wedgewood, the manufacturer of the famous Wedgewood China.
Jasperware, in many respects, is Josiah Wedgewood's crowning achievement. The pieces are made from translucent clay combined with basalt producing dense colored stoneware. It took Wedgewood over 10,000 experiments to perfect his original formula of this homogeneous mixture of clays and glazes.
After finally completing the formula, Wedgewood created Jasperware in white or colored stoneware or ceramic body that comes in a matte finish. While pieces were also made in different colors, the most popular were the white and blue versions. These pieces were launched in 1755 and gained an overwhelming popularity particularly among American families.
More Antique Jasperware Resources
Jasperware pieces are wonderfully unique but very hard to date. If you are interested in collecting Jasperware the following points might help you:
Jasperware pieces dated from 1908 onwards are marked with 'Wedgewood, Made in England'. Before 1970, marks were separated (Wedgewood Made in England).
Smaller Jasperware pieces carry the mark 'Wedgewood England'.
Jasperware produced before 1908 were marked 'Wedgewood England' but the marks varied in size from one piece to the other.• Between 1891 and 1908, letters accompanied the 'Wedgewood England' mark. This helps identify manufacturing dates. The letters help identify the month in which it was produced, the potter who produced it and the year of its production respectively. Say, P stands for 1861, Q stands for 1862, R stands for 1863 and so on, though sometimes this system is not effective since some periods overlap.
Jasperware manufactured before 1860 were marked with 'Wedgewood', accompanied by the potter's personal marks and a single letter.
Jasperware pieces are precious to antique collectors. If you are serious about collecting and buying antique Jasperware, knowledge in how to date pieces is vital to verify the authenticity of these great antiques.
Collecting antique bone china is a popular hobby among antique plate collectors these days. Naturally these antique plates are durable as they are made of strong clay mixed with bone ashes. However, over time, they can become prone to stains and dust. Beautiful pieces passed down from generation to generation should be treated with respect. The best maintenance is begins with cleaning them regularly.
There are a number of ways to clean antique plates; especially antique bone china. But the number one rule is not to put them in dishwashers. Dishwashing might save time and effort; however it can also damage plates over time, accelerating wear and tear and cause cracks. No matter how sturdy you think your antique bone china is, dishwashers can cause chipping and hairline cracks.
Dishwashing antique plate is a no-no, which leads us to the next rule. Wash your antique plates and antique bone china by hand. Yes, it takes more time and effort but it's the safest way to make sure your plates don't get damaged.
But it doesn't end there. You might think you know how to hand wash plates, but antique plates need particular care. Extremely hot water and strong detergents have been known to wear away antique bone china patterns and show up hairline cracks or make them bigger.
More Antique Bone China Resources
Wash your antique bone china with warm water and a mild detergent. Carefully clean your plates removing all traces of sticking dust. If this doesn't work try using baking soda which is one step up but still mild on bone china. Use soft cloth, never a scourer.
After hand washing, it's time to dry your antique china. The best way to dry china is naturally but gentle wiping with a dry soft cloth is also a good alternative.
But what if you have a terrible stain that won't budge using mile detergent or baking soda?
Secret Recipe to Remove Difficult Stains
Before you get out a scourer or discard your china altogether, try this Stain Removing Recipe. Make up a formula of 2 parts peroxide, and 1 part water. Using a q-tip, dab some of the solution on the stain. Gently rub until the stain is fully removed. This works most of the time and a great solution before seeking professional advice.
Preserving your antique plates is a must. Taking care of them, by cleaning them regularly and carefully, is the best way to keep them beautiful and useful for you, your family and friends to enjoy.
When you hear the word tea you instantly think of a group of British sitting around at "high tea" and sipping tea poured from a delicate china pot into matching delicate china cups. Oddly enough though, tea is anything but just British.
Antique teapots, antique tea sets and specialty porcelain tea sets have entered the world long ago but remain quite collectible for both the young and the young at heart with collectors all around the world.
Tea pots are actually a Western innovation, becoming widely noticed in the 19th century. Some say it was created to mimic a small server for wine that the Chinese used, while others argue it mimics an Islamic pot used to serve coffee.
While the origins are argue, it is known that the English preferred mostly silver tea pots, which originally resembled coffee pots for many years, but later resemble what most of us know as the teapot of today's style. Both styles of antique teapots are actually in museums in England.
More Antique Tea Pot Resources
At one point some didn't care for the silver pots and began to use imported Chinese red stoneware to serve their tea. The pots originally were round in shape but later started coming in shapes and sizes of all types.


The novelty teapots quickly became a trend in the 19th century as Minton introduced some intriguing teapots but not to be outdone by artistic flairs of many others, including Sadlers, the company of artist James Sadler, Beswick & Price's, and Cardew to name a few. The creators, artists, companies, and individual exclusive pieces are all sought after for various reasons.
Today teapot collecting is quite an extensive and exclusive pastime for many. There are everything from part-time collectors to full fledged collectors who make a living finding, buying, trading, and selling these varied vessels.
Like any collection, beauty is in the eye of the beholder so what one might find to be "wonderful" another may find quite plain and unappealing. One thing is for sure, the more unique, the original creator, the less worn, the material used, and sometimes when it was created, some teapots can cost upwards of $50k. One Yixing brand teapot from China, created in 1995 sold for $75k.
Some collectors collect based upon brand name/creators only. Yixing is one of the most highly sought after teapots. However people from every walk of life can and have loved their teapot collection.
Simple designs to cute characters and copycats of original rare pots, all call to both the individual collector and the business collector. Magazines, Collectors' books, calendars and hundreds of online pages dedicated to these varied and beautiful vessels we call Teapots.
Collectors should collect them for their love of the teapot and not just the value of an antique teapot or resale price on a tea set. Once you realize the fun and excitement in finding something that makes you smile, without the concern of the resale value, you will become a true teapot collector.
By Naomi West
Local Resources

If you think that the china plate your grandmother passed down to you is an antique than you have to find out to know for sure one way or another. Try to think about how it came to be in your family. Did your family buy it from an auction sale it or did they acquire it at a flea market? Some individuals have purchased these simple items for a low price not understanding what they were.
One of the single ways that you will master the art of identifying these pieces is if you study them first. Invest in magazines or books that will help to teach you what you have to look for and what the most common pieces are. They will provide you with tips on how you can pick out a fake and methods used to determine where it came from.
After a bit of studying you can study the piece that you have. Look at it all over and try to find the mark of the manufacturer. This is normally settled on the bottom. This may be a number, symbol, or a name. Frequently when the manufacturer made each piece they will stamp or indent the mark that is on it.
Do a bit more research on the mark that you discovered to determine what era it was produced in. The art work and design have to also help to determine the year. This will assist you to understand not simply who made the piece but also how rare they might be. It will assist you to understand what materials were used to make it.
If you think that you have an antique teapot or plate than you will be ready for the last step. It is time to take it to an appraiser who will find out how special it is and how much it is worth. They can tell you what makes it particular or why it is a fake.
There are many of us who own an Antique Teapotor plate without realizing what it is. Learn how you can Identify Antiques and understand the value of them.
Article Source: http://EzineArticles.com/?expert=Naomi_West
Local Resources
The antique porcelain is basically held to be important because of its artistic and historical values. Because they usually come in expensive prices, they deserve to be well taken care of. Culturally speaking, these antique pieces are very significant. But then again human negligence along with a couple of natural disasters or accidents can cause them to get stained or worse, damaged.
Because collecting them is such a popular hobby, it matters that you know of the tips on how to make them last longer. When properly done, you can expect them to last longer that you can even pass them on to your next generation of kin.
The first rule in cleaning your antique porcelain is to never put it in a dishwasher. Sometimes you get so tied up with another task that you want the cleaning procedure to be immediately done. But if you have antique porcelain plates, the dishwasher can just damage them. You see, its temperature can get too hot and the prolonged exposure of your antique pieces to this kind of environment can wear them down and cause them to crack. Also, fragile pieces are more prone to chipping and cracking especially when they get all tossed around during the wash cycle.
Therefore, wash you antique plates by hand and use only warm water and mild detergent cleaner. Hot water and a very strong detergent can destroy the patterns. Avoid using anything abrasive. Use only a soft cloth. For heavy scrubbing, use the baking soda.
More Resources
Never rub the stains. Instead, create a solution of 1 part water and 2 parts peroxide. Use a q-tip to dab the solution.
If you want things done by a professional, you will be happy to note that there are actually shops that do this. Professional porcelain restoration is a course training that is offered in colleges and universities to train students in ceramic and porcelain restoration. The students are awarded certificates and diplomas and you can trust them to have the ample knowledge on restoring different materials aside from porcelain such as the majolica, ceramic, earthenware, terra cotta, plaster, and clay.
Anyhow, you can always find a shop that specializes in the restoration procedures that are definitely safe and worth applying to your antique porcelain collections. These professionals should be informed of the historical period of the item to be restored so as to be able to retain the surface and color patterns.
Article Source: http://EzineArticles.com/?expert=Imanuel_Mansoor_S
Local Resources

Ironstone collectibles such as ironstone plates date back to when Charles James Mason registered 'Patent Ironstone China' for the Mason Family partnership in July 1813.
While the 'Patent' was real enough, trade marking and selling ironstone was a great marketing feat since it is not made of porcelain and the iron content less than half of one per cent, unlike Mason's published recipe which describes in detail the ironstone and iron slag components.
Charles Mason went to great lengths to compete, misinform and even discredit the other 172 ironstone manufacturers in Staffordshire – many trading off the success of the Mason's.
Mason's plan proved to be a marketing triumph; the new ironstone was hard and durable while copying Oriental designs from Chinese porcelain imports. Everyone wanted it.
And they still do – so knowing what to look for is a great investment in time and money. Markings, collectability, history and pricing are all necessary in the landscape of ironstone.
While originally designed by Englishman Charles Mason it didn't take long before there were other ironstone manufacturers to Mason to compete with. But Mason was considered the master of ironstone. Mason's reputation was in part attributed to the way he sold his goods. Unlike most others selling either by catalog or door to door Mason auctioned his pieces.
Related Information
Ironstone remains highly collectible in the United States and around the world and start as low as thirty dollars to a few hundred dollars, even thousands for rarer items.
Markings on the bottom of each piece include words stamped such as CJ Mason & Co., M Mason,
Fenton Stone Works, or Lane Delph as the more valuable manufacturers and often accompanied with markings of crowns or a coat of arms.
Other manufacturers of ironstone include Spode, Turner & Tomkinson, Wedgewood, Wood & Sons, J&G Meakin, T & R Boote and Birks Bros. & Seddon.
Scour the internet stores for information and pricing on ironstone china before making an expensive purchase. This knowledge will help you collect at the right price so you can continue collecting and enjoying your ironstone plates.