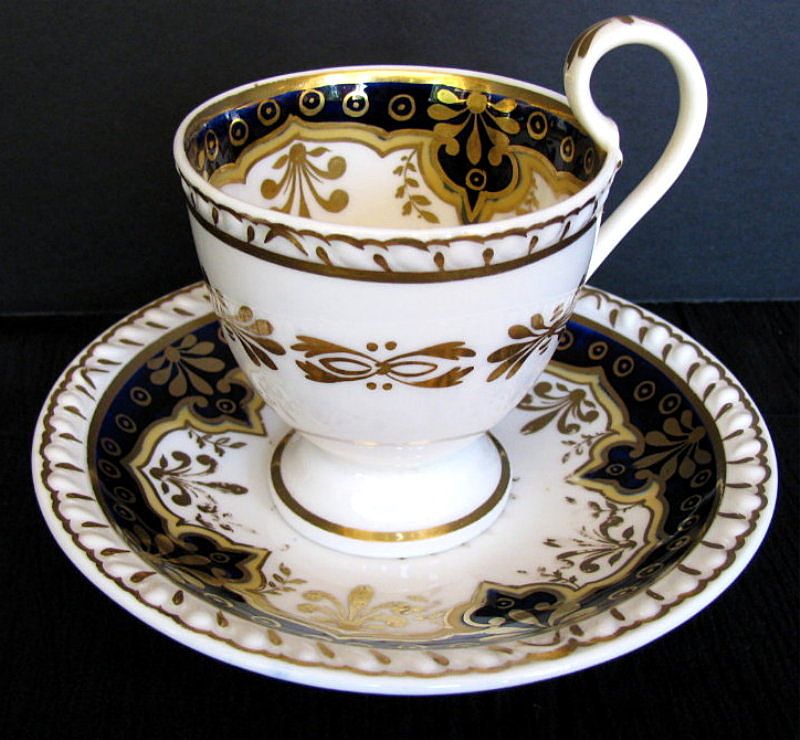 An antique tea cup collection is an easy and inexpensive hobby for most collecting enthusiasts. Even teens can join start; rummaging through antique shops, garage sales or receiving tea cups and saucers as gifts.
Starting at home by finding antique or vintage tea cups, handed down from their grandmother's mother; there is a certain thrill to discovering beautiful antique cups and saucers. Drinking tea will never leave us and collecting antique coffee cups and tea cups is an easy way to learn about how to collect and look after precious things.
Antique Tea Cup and Saucers

Before starting your own collection, spend some time learning and exploring the different manufacturers and patterns.
Learning about tea and coffee cup manufacturers and recognizing their manufacturer's marks will help you recognize when you come across them. Manufacturers of the top selling tea and coffee cups include Spode, Royal Doulton, Havilland, and Limoge
. Antique tea cups and saucers made in England are collectible and abundant. Antique tea cups with feet are less common.
Older tea cups from Japan make good collectibles – but the focus here is mostly on European antique cups and saucers.
Antique and vintage stores often hold a wide variety of antique tea cups and are a great place to start. Don't forget online treasure troves like Craigslist, Amazon
or One Kings Lane for more up market pieces.
Originally, tea cups they were made of silver; designed for the rich to drink hot chocolate. It was later, when the tea culture took off that manufacturers made tea cups from porcelain.
The first tea cup manufactured in Europe had no handles. Antique tea cups without handles are not so easy to find, and can be a great collectors find.
Can You Tell a Coffee Cup from a Tea Cup?
They can look similar, but a coffee cup is much bigger than a tea cup. Tea cups have a fine and delicate look and design with handles set higher than a coffee cup.
Where is Your Antique Collection Hiding?
Begin by looking in your own kitchen or attic for antique pieces. Our tea culture is very strong so every family has something handed down even if they're not family heirlooms. Your grandmother may have a set tidied away in kitchen cabinets, storage or your attic. If you fail to find anything at home, then its time to look at garage sales, antique fairs, markets, vintage stores and of course, Craigslist, Amazon
or One Kings Lane.
Antique Tea Cup Resources
Local flea markets and garage sales are a great way to see different styles, patterns and designs of tea cups to work out what you like and can afford.
Start with your own neighborhood, then branch out to garage sales or flea markets in other suburbs. These hold the cheapest vintage and antique tea cup finds.
These can be seasonal, which means you have to be quick and early.
Antique shops also sell a variety of antique pieces. The prices are generally higher but these stores have experienced experts who can tell you about the manufacturer and history on any piece you might be interested in.
Garage sales, online markets and antique shops often have shop fronts on Amazon or Etsy.com plus other online sites, so don't forget to look at online stores to research and buy your antique cups and saucers. Be thorough when researching because returns are very difficult.
If you are serious, antique cup collecting can be an expensive hobby, so be patient with growing your collection.
Decide first how much you are willing spend for a single coffee cup or tea cup to limit your spending. This is part of the challenge – to find great antiques for a fraction of what they are really worth.
How to Store and Clean Antique Tea Cups
Depending on how expensive and how many tea cups and saucers you collect will help you work out where you should store them. Will you put them in your kitchen and use them regularly? How about a cabinet for display or a tea cart? The more you collect the more space you need. Either way they should be in a safe place where they will not break.
Learn about the best way to clean your antique tea cups to prevent stains and blemishes  that form over time.
Collecting antique cups is a great hobby, full of tradition to preserve our tea culture and heritage. Your collection can grow over the years; you can hand them to your children and grand children or sell them if they become more valuable or you have too many!
Antique collectors and enthusiasts might have already heard of Ironstone plates or might even have them in their own collections. Ironstone was patented by Charles James Mason of Staffordshire, England, in 1813. These plates can be traced back to the early 1800's when white glazed varieties were produced and exported to countries like Australia, Europe and the United States. There are also colorful varieties of these plates which were sold throughout England.
British potters started to produce snowy-white ironstone pieces in 1830's. These were mainly sold to American families in rural areas and were called White Ironstone.
White Ironstone dinnerware was more durable than porcelain and harder than earthenware. Being superior in durability, strength and design, they quickly gained popularity during the 1800's. It was also more affordable.
Early White Ironstone was less expensive than more delicate porcelain and sought after by rural American families. As time passed they became more and more valuable. Today, White Ironstone is an exclusive item for antique plate collectors. Pieces can cost between $200 and $350 depending on the rarity, pattern, maker and quality. A chip-free White Ironstone piece is considered rare and often more expensive.
More Antique Ironstone Resources
Like any antique piece, White Ironstone needs special care. Dust regularly and handwash with a mild detergent if necessary. If you use your white ironstone dinnerware at meals, be careful when using knives. Knives can cause unnecessary marks to your plates which will reduce their value and create unnecessary wear and tear. If possible, avoid knives when using your white ironstone dinnerware.
Did you know that antique collectors can tell when an ironstone piece was produced by the design? The earliest pieces of White Ironstone, produced from 1830's to 1840's, have paneled hexagonal or octagonal shape designs. Those produced during 1860's were rounded with defined ornamental designs. After the 1880's, Ironstone pieces were being produced with simple patterns and shapes– mostly round and plain.
When collecting ironstone, it is important to gather as much information as possible. This will help you with every aspect of white ironstone plate collecting from buying to taking care of your antique ironstone.
Antique collectors and enthusiasts who buy Wedgewood dinnerware and pottery, often collect Jasperware. Jasperware was developed through a series of experiments by Josiah Wedgewood, the manufacturer of the famous Wedgewood China.
Jasperware, in many respects, is Josiah Wedgewood's crowning achievement. The pieces are made from translucent clay combined with basalt producing dense colored stoneware. It took Wedgewood over 10,000 experiments to perfect his original formula of this homogeneous mixture of clays and glazes.
After finally completing the formula, Wedgewood created Jasperware in white or colored stoneware or ceramic body that comes in a matte finish. While pieces were also made in different colors, the most popular were the white and blue versions. These pieces were launched in 1755 and gained an overwhelming popularity particularly among American families.
More Antique Jasperware Resources
Jasperware pieces are wonderfully unique but very hard to date. If you are interested in collecting Jasperware the following points might help you:
Jasperware pieces dated from 1908 onwards are marked with 'Wedgewood, Made in England'. Before 1970, marks were separated (Wedgewood Made in England).
Smaller Jasperware pieces carry the mark 'Wedgewood England'.
Jasperware produced before 1908 were marked 'Wedgewood England' but the marks varied in size from one piece to the other.• Between 1891 and 1908, letters accompanied the 'Wedgewood England' mark. This helps identify manufacturing dates. The letters help identify the month in which it was produced, the potter who produced it and the year of its production respectively. Say, P stands for 1861, Q stands for 1862, R stands for 1863 and so on, though sometimes this system is not effective since some periods overlap.
Jasperware manufactured before 1860 were marked with 'Wedgewood', accompanied by the potter's personal marks and a single letter.
Jasperware pieces are precious to antique collectors. If you are serious about collecting and buying antique Jasperware, knowledge in how to date pieces is vital to verify the authenticity of these great antiques.
Collecting antique bone china is a popular hobby among antique plate collectors these days. Naturally these antique plates are durable as they are made of strong clay mixed with bone ashes. However, over time, they can become prone to stains and dust. Beautiful pieces passed down from generation to generation should be treated with respect. The best maintenance is begins with cleaning them regularly.
There are a number of ways to clean antique plates; especially antique bone china. But the number one rule is not to put them in dishwashers. Dishwashing might save time and effort; however it can also damage plates over time, accelerating wear and tear and cause cracks. No matter how sturdy you think your antique bone china is, dishwashers can cause chipping and hairline cracks.
Dishwashing antique plate is a no-no, which leads us to the next rule. Wash your antique plates and antique bone china by hand. Yes, it takes more time and effort but it's the safest way to make sure your plates don't get damaged.
But it doesn't end there. You might think you know how to hand wash plates, but antique plates need particular care. Extremely hot water and strong detergents have been known to wear away antique bone china patterns and show up hairline cracks or make them bigger.
More Antique Bone China Resources
Wash your antique bone china with warm water and a mild detergent. Carefully clean your plates removing all traces of sticking dust. If this doesn't work try using baking soda which is one step up but still mild on bone china. Use soft cloth, never a scourer.
After hand washing, it's time to dry your antique china. The best way to dry china is naturally but gentle wiping with a dry soft cloth is also a good alternative.
But what if you have a terrible stain that won't budge using mile detergent or baking soda?
Secret Recipe to Remove Difficult Stains
Before you get out a scourer or discard your china altogether, try this Stain Removing Recipe. Make up a formula of 2 parts peroxide, and 1 part water. Using a q-tip, dab some of the solution on the stain. Gently rub until the stain is fully removed. This works most of the time and a great solution before seeking professional advice.
Preserving your antique plates is a must. Taking care of them, by cleaning them regularly and carefully, is the best way to keep them beautiful and useful for you, your family and friends to enjoy.